เว็บพนันบอลไทย _สมัครคาสิโนออนไลน์ _ทดลอง เล่น บา คา ร่า gclub_สูตรเล่นเกมยิงปลา_แจก เครดิต เล่น ฟรี
December 2012 | By: Michael Upchurch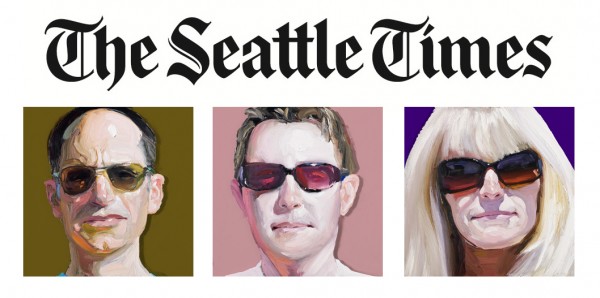 TACOMA, WA.- Museum of Glass
At Tacoma's Museum of Glass, three exhibits offer striking and complementary contrasts in what glass art can do. All three run through early 2013.
"Ray Turner: Population"
Artist Ray Turner calls his oil-on-glass portraits "head paintings," and that's exactly what they are: faces, viewed full-on, in 12-inch- by-12-inch panels. There are close to 170 of them in the show, which suggests a certain degree of repetition — but that's not the case. The reason: Turner is working simultaneously in two distinct veins and on two distinct scales, making for fascinating tensions and contrasts within the show.
The biggest installation, "Population," consists of 105 portraits of people, done in a naturalistic impressionist style. The portraits are arranged in five horizontal rows of 21 panels apiece. The selection of people portrayed has varied from city to city, as the exhibit travels from Akron, Ohio, to Bellingham and now, Tacoma. For each tour stop, Turner has painted figures from the local community. In Tacoma, that includes glassblowers, members of the Puyallup tribe and fellow alumni from Tacoma's Stadium High School, which Turner attended in the 1970s. (He now lives in California.)
Individually, the portraits have a quick-sketch spontaneity to them. The paint on the glass can be creamy, curving, a little reckless, and Turner's subjects, caught in candid poses, sometimes are distorted in feature or color. No matter what freedoms he takes in rendering his models, each retains his or her open, distinctive character.
On the large scale, though, more is going on. Behind each portrait on its clear pane of glass, a matching square of gallery wall has been painted a background color. (The color looks, at first glance, as though it's painted on the back of the glass, but that's an illusion.)
Step back from this "mosaic" of 105 people, and you'll see they're linked in a grand chromatic progression, going from yellow to umber to purple to red to green. The colors' sweep lends a vibrant buzz to the whole installation, even as individual portraits retain their magnetic draw.
The second largest installation in the show, "Good Man Bad Man," finds Turner following the same formal principle as in "Population," but with wildly different subject matter. The 45 "head paintings" in it are imaginary beings, some of them nightmarish deviations from the human.
In a catalog accompanying the show, Turner explains that "Good Man Bad Man" had its origins in a question his son asked about the first painting in the series: Did it depict a villain or a hero?
Turner's own take, 10 years later, is that the visages in the series "exaggerate both sides of our human experience … with two forces colliding in constant strife, good often dominating, but never fully overcoming our dark lord."
The vaguely anthropomorphic beings Turner conjures into view are startling with their masklike, twisted, melting, dazed or menacing faces. Some are blanched out, as if overexposed to light. Others are luridly colored head-smears, with occasional physiognomic details (a rough circle for an eye, a sketchy notion of an ear) to suggest something human coming into being. Turner's brushwork is fast, free, rule-bending. Each protean face is placed against a black backdrop, except for the bifurcated disintegrating visage at the very center, which is backdropped in red.
"Population" is a fine, ambitious, community-embracing work. But Turner is more riveting when he lets his demons out.
The four galleries, taken together, are temple-like, with different rooms consecrated to different purposes. The Museum of Glass lighting team contributes almost as much as the artists themselves in letting you take an imaginative leap into the realm of the sidereal and primordial.

"Man on Pink with Pink Skin" is a portrait of artist Paul Stankard.
By Michael Upchurch:?mupchurch@seattletimes.com
Seattle Times arts writer